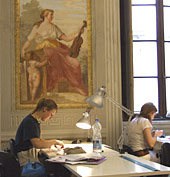 The Summer Program consists of month-long courses of study during June, July, and August. This program is well-suited for the undergraduate student seeking summer academic credit, or the independent or adult student seeking a meaningful educational experience at Florence or Rome campuses. The summer months also offer a variety of cultural and artistic events taking place in and around all LdM campuses.

SCHOOL OF ARTS AND SCIENCES

The School of Arts and Sciences includes the following departments: Anthropology, Art History, Classical Studies, Communications, Gender Studies, Geography and Environmental Science, History, History of Architecture, International Business, Literature, Mathematics, Music, Cinema and Theatre Studies, Nutrition and Health, Philosophy and Religious Studies, Political Science and International Studies, Psychology, and Sociology.

SCHOOL OF CREATIVE ARTS, MEDIA AND FASHION DESIGN

The school of Creative Arts, Media and Fashion Design includes the following departments: Fashion Design, Film, Video and Multimedia Production, Graphic Arts, Interior Design, Jewelry, Painting, Drawing and Mixed Media, Performing Arts, Photography, Printmaking, Restoration, Sculpture and Ceramics.

SCHOOL OF ITALIAN LANGUAGE AND CULTURE

The School of Italian Language and Culture includes the following departments: Italian Language, Italian Language and Culture.