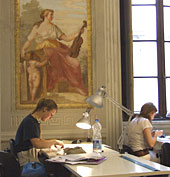 The largest of the sites, Florence currently offers the most comprehensive program.

Students attending Lorenzo de' Medici for a semester may choose from four different programs of study. The programs vary in the weighting given to the Italian language element, and are thus designed to allow students with different backgrounds and personal preferences to choose how much time they wish to spend developing their Italian language skills.

All students on semester programs take at least one 3-credit Italian language course. Beyond the compulsory Italian language element, students are free to choose combinations of elective courses from a vast list, all taught in English, thus enabling them to satisfy personal preferences and the requirements of their US degree programs.

Subjects are listed below. Please see Course Schedules and Course Descriptions for more information.

SCHOOL OF ARTS AND SCIENCES

The School of Arts and Sciences includes the following departments: Anthropology, Art History, Classical Studies, Communications, Gender Studies, Geography and Environmental Science, History, History of Architecture, International Business, Literature, Mathematics, Music, Cinema and Theatre Studies, Nutrition and Health, Philosophy and Religious Studies, Political Science and International Studies, Psychology, and Sociology.

SCHOOL OF CREATIVE ARTS, MEDIA AND FASHION DESIGN

The school of Creative Arts, Media and Fashion Design includes the following departments: Fashion Design, Film, Video and Multimedia Production, Graphic Arts, Interior Design, Jewelry, Painting, Drawing and Mixed Media, Performing Arts, Photography, Printmaking, Restoration, Sculpture and Ceramics.

SCHOOL OF ITALIAN LANGUAGE AND CULTURE

The School of Italian Language and Culture includes the following departments: Italian Language, Italian Language and Culture.