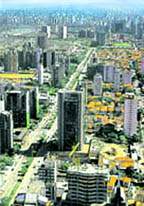 The biggest city in South America and one of the three largest in the world, Sao Paulo is considered one of Latin America's most important industrial and financial centers. It is the industrial center of Brazil, responsible for over 30% of Brazil's annual GNP and headquarters to the majority of Brazilian and multinational corporations. Strong industrial development and cultural diversity have provided Sao Paulo with the largest, most cultured and educated middle class in Brazil.

Sao Paulo can be an intimidating place, but if you like big cities, it offers the excitement and nightlife of one of the world's most dynamic. Attractions include the baroque Teatro Municipal, Niemeyer's Edifício Copan, the Museu de Arte de Sao Paulo (MASP) and the 16th century Patío do Colégio.

The NRCSA Center is located in Jardin Paulista, on the city's west side, one of the most populated districts in Sao Paulo. We are very closed to Avenida Paulista and the Ibirapuerta Park

The NRCSA Center in Sao Paulo is smaller than the Maceio location, and has 2 classrooms equipped with TV, VCR and stereo in a modern building. Students have access to internet and to other services, such as mail service, money exchange, etc.