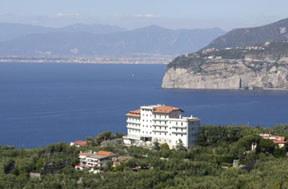 Located just to the south of Naples, Sorrento stands on a dramatic line of 150-foot cliffs, looking north across the Bay of Naples. It was originally a Greek village whose name was derived from the mythical song of the mermaids. The very position of the town, built on a high plateau protected by the sea, is typically Greek. According to early Greek legend, it was at Sorrento that Ulysses heard the tempting song of the Sirens, the nymphs who labored long hours to seduce and shipwreck passing sailors.

Sorrento, with its luxuriant vegetation and sun-drenched climate, became a favorite resort of wealthy Romans. A cliff-top setting, an imposing cathedral in the main piazza, a Franciscan church with a distinctive 13th-century cloister, and a charming, flower-filled town draws thousands of modern-day visitors as well.

Sorrento is the gateway to the romantic island of Capri, a magical place where magnificent white cliffs rise to cradle a beautiful, jewel-like town, as well as to the historic city of Pompeii, which offered the world its first glimpse into ancient Roman life.

Daytime temperatures of Sorrento vary from the mid 80sF/60s in the height of summer to the mid 50sF/30s in winter.