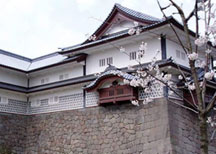 Because of its beauty and historic interest, Kanazawa is known as "little Kyoto". With a population of about 450,000, it is situated on the northern coast of the main island of Japan, Honshu, near the conspicuous Noto Peninsula. It is about 200 km north of Kyoto and 400 km from Tokyo. The school is located right in the centre of the city, only a few minutes walk from important historical sites, parks, museums and a public library.

The city is full of greenery and its charm and gentle atmosphere have led people to call it the "jewel of the Sea of Japan". Kanazawa escaped destruction during the second world war, and retains much of its heritage and the atmosphere of its glorious past. Among its best-known sights are the remains of Kanazawa Castle and the Kenrokuen Gardens. This is famous all over Japan, covering 100,000 square meters and consisting of beautiful Japanese gardens with different features for each season. In spring there is plum and cherry blossom, in summer multicolored irises, and in autumn all the trees are red and gold. In winter, the park trees are protected by yukizuri, a system unique to the region. It is an art form as well as a protection for the trees from heavy snow & ice and shows how much the people of Kanazawa love nature and seek to preserve the beauty and grace of their city.

Kanazawa's wealth comes from a powerful family of feudal lords, the Maeda family, who built the castle and contributed generously to education and culture. During the Edo period from 1603-1868, Kanazawa became known as a centre of education and craftsmanship and this tradition is still alive today. The old crafts are preserved but live side-by-side with a modern city and Japanese high-tech civilization.
The city is built on two rivers, the "male" river of Saigawa, and the "female" river Asanogawa; there is a network of irrigation channels, so it is very much a town on the water. In the old town you will see a lot of samurai yashiki (samurai residences), so you can imagine you are in the atmosphere of a samurai film.

Although it is a rich, lively city, life in Kanazawa is gentler and calmer than that of other big cities in Japan. Its situation between the mountains and the sea, and the Hakusan National Park and the Kaga Onsen hot springs give it a special charm.

Rainy season is between mid-June and mid-July. A light raincoat as well as an umbrella will be useful. Summers are very humid with temperatures between 23-33°C/73-91°F.