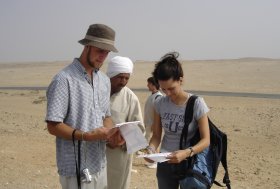 We have also organized social activities. This gives you a chance to discuss and learn more through lectures, trying the delights of Egyptian cookery (and learning the secrets) as well as visiting many tourist attractions with a professional guide.

Past excursions include:
• Trip to Giza Pyramids, Sphinx & Solarboat
• Trip to Sakkara, Memphis & Dashour
• Islamic Cairo
• Coptic Cairo
• Felucca trip on the Nile

Activities and excursions are optional and at an additional cost.