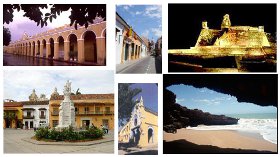 Our school of the Caribbean is located in the city of Cartagena. It is 4 blocks from the main entrance to the "Old City" in a colonial house with a Caribbean atmosphere that you will love. It is said that you do not know the Caribbean until you know Cartagena; be prepared to meet the friendliest people in the world, live a musical atmosphere, eat extraordinary and varied food, take the sun in astonishing beaches and dive near beautiful coral reefs, hear stories of pirates, slaves and sank Spanish ships ,visit natural parks, live the Rumba (Party!) in the beach and enjoy the best weather.

Cartagena is a UNESCO World Heritage City, and on the "must see" lists of millions of world travelers. Ramparts and walls, were built all around the city in order to protect it from pirate attacks. Now, nearly 500 years old, this majestic city on the South-western Caribbean, retains much the charm, history, architecture, romance and adventure of days gone by.

Nearby Cartagena is located the famous Rosary Islands Natural Park, which is a group of coral islands with the best beaches near Cartagena. Only 40 minutes from Cartagena is the Totumo swamp which is a shallow fresh water lake besides the sea, this is a paradisaical place where a huge variety of migratory and non migratory birds nest being a delight for tourist and locals. There you can take a bath into the crater of a volcano, a mud volcano that's famous for being good for the skin. Other thing that you should do is visit the charming restaurants and clubs inside of the so called Old City.

Forts and Castles: Forts and castles were strategically built around Cartagena de Indias to defend its inhabitants from the continuous attacks of English and French pirates who, well aware of all the new lands had to offer, sailed the Caribbean in search of treasures. Spanish military engineer Bautiste Antonelli reached Cartagena in 1589 and started on the construction of the monumental works that today constitute an example of the military architecture of the period. The forts of San José and San Sebastián and the castles of San Felipe de Barajas and San Fernando y Las Bóvedas are still standing today.

A respected historian of the 20th Century, Englishman, Arnold Toynbee, said, as he inspected the fortifications and ramparts of Cartagena: "This is the reason that South America does not speak English".