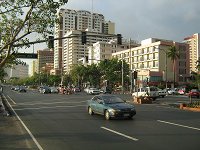 NRCSA provides foreign language and culture training to students from all over the globe. Interactive tutor and semi-tutor classes provide a balance of conversation, comprehension, grammar and reading and writing instruction. Cultural themes are integrated into conversation exercises, assigned readings and recommended independent activities.

The school is located at the Philippine Stock Exchange (PSE)Building at the heart of Ortigas business district. Distinguished and spacious, the landmark structure is highly regarded for its top-rate security measures, technical features
and roster of respected corporate tenants.

The Center itself boasts of modern classroom and fully air-conditioned offices easily accessible from school home or work. It is also a stone's throw away from malls and other recreational
spots conducive for nurturing camaraderie with classmates. This makes the ACFL a showcase venue for a global learning community.