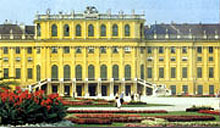 The capital of Austria and home to 2 million residents, is situated on the banks of the Danube. The influx of visitors from all over the world has made Vienna the most popular urban tourist destination in Austria. The city's location, not far from the splendors of Budapest and Prague, has made it a hotline to Eastern Europe, as well as a major center of modern business and cultural life. It is said that the most melodic German is spoken in the old city.

Vienna is a romantic, imperial city, with highlights including the magnificent Imperial Palace, majestic Schönbrunn Palace, and the magic of Ringstraße. What was once the heart of the Austro-Hungarian monarchy is now the stuff dreams are made of. Discover the glory and the splendor of Vienna, the city of art, culture and music; a safe and attractive place to learn German. Vienna is home to museums, exhibitions, theatres, concert halls and the world famous State Opera. Yet Viennese coffee houses, "Heuriger" - the name given by the Viennese to both the wine of the last harvest and the taverns where it is served - bars and clubs also make a trip to Vienna an unforgettable experience. Vienna's culinary diversity is also impressive. Delights such as semolina dumpling soup, tender boiled beef and apple strudel are typical Austrian dishes.

Famous composers such as Wolfgang Amadeus Mozart, Joseph Haydn, Ludwig van Beethoven and Franz Schubert made Vienna a city of music. Vienna also has an immense amount to offer in terms of art and architecture. Otto Wagner's Jugendstil works, the modern Hundertwasserhaus and the magnificent Ringstrasse boulevard are only a small part of Vienna's architectural heritage. Works by Gustav Klimt and Egon Schiele can be admired at Belvedere Palace. Literary figures such as Schnitzler and Musil gave the Vienna coffee house its institutional status.

Annual festivals such as the Spring Festival (April), the Summer Film Festival (July, August) in front of Vienna's City Hall and the Vienna Festival (May) are famous all over the world. Austria's climate is generally moderate and mild. Average summer temperatures range from 20°C to 30°C, the average winter temperatures are around 0°C.