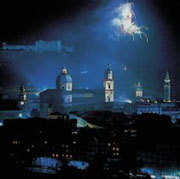 Situated in the heart of Europe surrounded by some of the finest countryside in the Alps. With 144,000 inhabitants, and annual averages of approximately 4,000 cultural events and approximately 6.7 million visitors, the capital city of Salzburg is Austria's second most important tourist city, behind Vienna. The city is Wolfgang Amadeus Mozart's birthplace (1756), and is also famous for its Salzburg Music Festival, founded in 1920. Salzburg has been distinguished by UNESCO as part of the "world's cultural and natural heritage" (Salzburg's old city) since January 1997.

Slazburg's average daily temperatures during the summer months is about 86°F/30°C. These are also the rainiest months of the year so be sure to pack an umbrella or rain gear.

Salzburg is only one and a half hours from Munich, three hours from Vienna and also not too far from Prague and Budapest. With this in mind, Salzburg is a wonderful place to study German while you vacation in beautiful Austria.