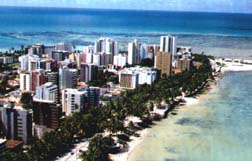 Maceio is the capital of the state of Alagoas, in northeastern Brazil, with a population of approximately 325,000 people. It is situated below low bluffs between the Atlantic Ocean and the Norte (or Mundaú) Lagoon. Formerly called Macayo, the city dates from 1815, when a small settlement there was made a villa. In 1839 it became capital of Alagoas and was given city status. Though much of the colonial buildings are gone, giving way to modern architecture, there still remains the Government Palace, the Metropolitan Cathedral, and the Church of Bom Jesús dos Mártires.

Maceio has an outdoor market of local crafts ranging from dresses and t-shirts to handmade jewelry and hammocks. Many unique gifts can be found to take back to loved ones. The city offers a number of bars and discotheques, both on the beach and in the city, with live music or recorded Brazilian music playing. The cinema in Maceio has current Portuguese language films made in Brazil and abroad. The city also offers a wide range of annual events and the most famous are the street parties such as Maceio Fest (an out-of-season carnival in November) and, of course, the traditional Carnival in February.

The institute in Maceio is located in two adjoining buildings with a house-like structure, the quaint environment enhancing the intimate atmosphere provided to students. There are 10 classrooms, 2 equipped with computer, TV, VCR, and audio. The facilities also include a fully equipped kitchen for Brazilian cooking classes. The classrooms are intermingled with staff offices to facilitate personal and friendly assistance. The two buildings are separated by a lush garden where students, faculty and staff relax and enjoy Maceio's tropical climate. Students, professors, and administrators also get together on the weekends to take advantage of the grill on the grounds, a favorite Brazilian pastime.