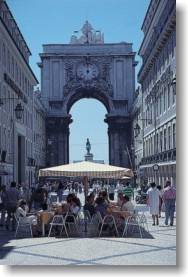 Cultural, Social & Activities Additional activities include a wide array of orientation and cultural events. Students are accompanied by experienced monitors who turn all these activities into memorable experiences of Portuguese life and culture. Options include:
A preliminary orientation lecture on how to get around in Portugal is given to all students.

Lectures, followed by debates are held on various aspects of life and culture in Portugal.

Sports Activities

Visit to a Port Wine bar

Video Sessions

Outings to theatres, cinemas and concerts, etc.

Mini-Course seminars on a variety of topics are available at additional cost.

Introduction to various Portuguese Arts such as Ethnography and folklore, Painting, Ceramics, Jewelry Making, Sculpture, Photography. These options are available at additional cost, and a minimum number of class participants are required.
Excursions
Saturday half-day and afternoon excursions to points of interest are available subject to minimum sign-up and additional cost.

Also available are full-day Sunday excursions and typical dinners at additional cost.