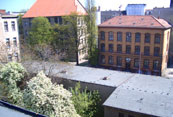 Founded in 1983, the NRCSA Center has its own campus in Berlin's trendiest district, Prenzlauer Berg. You´ll find numerous cafes, galleries and designer stores just next door.

The campus offers 40 classrooms, and courses run on 7 levels all year-round. Like Goethe Institute, we are an official testing center for ZD Zertifikat Deutsch. All courses are complemented by after-class-sightseeing in Berlin and by weekend trips to other German cities, i.e. Hamburg, Dresden, Potsdam.

Accommodation is possible both on on site and in Berlin homestays. On campus are 50 studio apartments, all with kitchen, bathroom, TV and phone. Rooms are bookable as single or shared double. The homestay options are a budget alternative, with commuting times between 5 and 40 minutes.

All courses are taught by highly qualified teachers who hold university degrees. Regular teacher training ensures that they always use the latest teaching methods and approaches.