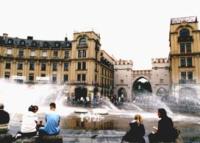 Munich is Bavaria's capital (1.2 million inhabitants) at the edge of the Alps is one of the greenest and most beautiful cities in Germany. Munich has been able to preserve its unique charm which is expressed through its beautiful architecture with buildings from several eras and the typical lifestyle of its people: a mixture of tradition and receptiveness towards modern life. It is not only an international city, it is also a cultural leader which offers an extraordinary variety of leisure attractions.


The NRCSA Center is situated in a quiet location in the city centre only 150m from the pedestrian precinct. Thanks to the highly qualified and experienced teachers, the friendly and welcoming atmosphere and the modern teaching facilities, it has earned a reputation for quality courses. In six classrooms, students from all over the world meet to learn German with one another. A student library and computers are at the disposal of those who want to continue their studies outside the lessons, and the teachers are always available with tips and advice.

The cafeteria is a popular meeting place during the breaks and also enables an intensive interchange between students and teachers out of lesson time. Here, joint activities for the evenings and weekends are planned and these often form the beginning of a lasting friendship - not only with other students and teachers, but also with the city of Munich. Many of students return to visit more than once.