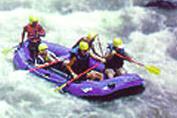 Excursions A wide variety of excursions are available at additional cost, including:
Visit a working butterfly farm

Visit indigenous people's villages

Whitewater Rafting and Kayaking

Rafting the Lower Cangrejal: This is a perfect rafting trip for people interested in getting their adrenaline pumping. Good for beginners and intermediate rafters, with many rapids ranging from class I-IV, depending on the water level. Along the way, you can admire the towering mountains covered in lush, tropical vegetation, marvel at the largest waterfall in Pico Bonita National Park and enjoy the experience of rafting one of the best rivers in Central America.

Rafting the Top and Upper Cangrejal: The top and upper parts of the river are better suited to those with some whitewater rafting experience. The rafting guides will assess each student before taking them on this part of the river. The school recommends that students without experience raft the Lower Cangrejal before adventuring down these parts of the river.

El Pital to Las Mangas (Upper): This half-day excursion is perfect for adrenaline junkies. With class IV rapids, drop-offs and boulders, this stretch of the river demands technical finesse, strong paddling and a thirst for excitement.

Rio Viejo to Las Mangas (Top & Upper): Start at the headwaters of the Rio Cangrejal. Put-in at Rio Viejo, where two other rivers, the Rio Blanco and the Rio Yaruca join together to form the Rio Cangreal. Raft down the river past El Pital to the pull-out at Las Mangas. Along the way, enjoy extreme rapids, swimming (either voluntarily or involuntarily if you get tossed from your raft) and admire the towering mountains covered in lush, tropical vegetation. This entire stretch of river has several class IV rapids, plenty of boulders and drop-offs, and stretches shooting through bare-rock riverbed. It's 4-6 hours on the river and takes the entire day.

Trekking in pristine Cloud Forests to birdwatch and look for animals.