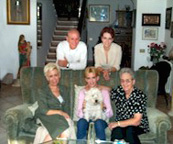 All accommodations are payable locally. The student's room will normally be available from the Sunday before the course starts until the Saturday after it finishes. We recommend the for the student to register as early as possible to ensure that your preferred lodging is still available. Full details on the your lodging will be sent approximately 2 weeks before the first day of class.

Please send NRCSA your arrival information at least 2 days before your plan on starting your lodging. This will help to ensure that someone will be available on Sunday to let you into your lodging.

Homestays For those who wish to make the most of their time we recommend staying with an Italian family. We can book a single or double rooms with half board (breakfast and dinner) in one of our carefully selected families. This is an excellent opportunity to practice your Italian on a daily basis and sample the delights of Italian home cookery! Most families live just outside the city walls rather than within the city centre and an average bus ride is about 10-20 minutes. The type of family can vary between a couple with children to a widow or a single women.

Double rooms are for students traveling together only.