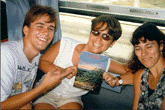 Student Services, Cultural & Social Activities Students can book theater or sports tickets, excursions with local travel agencies, and so on through the local coordinator. At the beginning of the course there is a general introduction to the Center, to Taormina and an update and explanation of local activities and other local points of interest.

Scheduled program of internal extra-curricular activities which are included in the price of the course are available and change from week to week. These activities include, but are not limited t:o films, games, seminars on the Mafia, Italian hand gestures, literature, poetry, film, contemporary music, art history, Italian history, Sicilian history, Mount Etna - active volcano (only to mention a few). In addition to this, many social activities, such as dinners, theater performances and concerts are organized with students.

Excursions Organized guided excursions are offered every other weekend. Generally the excursions take students to places which are not included in those most travel agencies offer. The school prefers to take students to the truly special places, off the beaten track, the places only the "locals" know about, the places tour buses never go to. Students can very easily go to the main sites with the excursions organized by the many travel agencies located in Taormina.