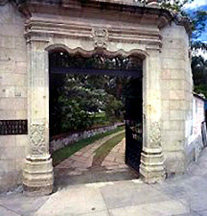 Oaxaca is an enchanting colonial town, where you will discover both a modern Mexico and ancient indigenous culture. The indigenous groups who once inhabited the nearby archaeological sites of Monte Albán, Mitla and Yagul continue to influence the language, lifestyle, and art of the area. The heart of the city of Oaxaca is the zócalo, or main square, which is surrounded by a mix of colonial architecture and an indigenous marketplace. The zócalo, just a short walk from the Institute, is host to concerts, parades, and sidewalk cafes that provide a comfortable setting for relaxing after class.

At the Institute, you can study Spanish while enjoying one of Oaxaca´s many charms: the climate. The abundant gardens invite you to study, converse, or relax among the plants and palm trees of the Institute's lush grounds. Absorb the midday sun or hide yourself in the shade of a palm frond as you bask in the year-round comfort of Oaxaca´s beautiful weather. Thanks to Oaxaca´s location in the state's central valley at 5,000 feet above sea level, the city enjoys pleasant weather during all seasons. The Institute's vibrant gardens are the perfect place to take advantage of the ideal climate found in Oaxaca.

Join us this July for Guelaguetza!