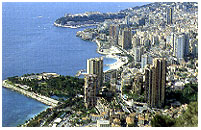 The NRCSA Center in Monte Carlo has been teaching French for over 30 years, and offers a wide range of courses. Classes can be arranged for students at almost any time during the week (weekends, lunchtime,etc.) enabling students to each the country. The teaching methodology utilizes a combination of vocabulary, grammar, listening and speaking in a relaxed atmosphere to foster improved communication.

All teachers are native speakers and are and always available to listen to the students. Most of the staff has been with the school since the beginning in 1985. All teachers are native French speakers, hold a university level degree, and have completed intensive in-house training prior to joining the practicing faculty.

Those who have placed their trust in the center include IBM, Single Buoy Moorings, BNP, Paribas, Barclays Bank, Banque de Rothschild, Citibank, Lyonnaise de banque, Lloyds Bank, Sudameris, Bureau Veritas, ASSEDIC, SMEG Martini & Rossi, Merril Lynch, Bulgari, Abela Hôtel, RMC, John Taylor, Musée Océanographique, Banca Commerciale Italiana, Chase Manhattan, Société des Bains de Mer, Eaton, Finas, Innoge, Fiat, Campari, etc.