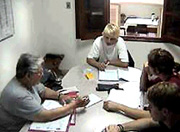 Students age 18 years and older are welcomed regardless of educational background, occupation or nationality. No previous knowledge of Spanish or Guarani is required except where otherwise indicated.

Students desiring credit for their study should contact their home school or request the NRCSA Credit Fact Sheet. Generally, U.S. universities consider 15 hours of study to be equal to 1 semester credit.

For more information about academic credit in Spanish speaking countries, please click here.
For general information on academic credit, please click here.