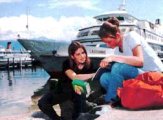 In Lausanne, unlike most big capitals, the pace of life is not at all hectic. Even so, it is an industrious town, a busy commercial centre. But here everyone keeps a sense of proportion and takes the time to live. Here, it's the quality of life that counts. Each district, street, park and shop attempts to outshine the others, but always in the best of good taste and with due moderation! The forest of Sauvabelin is like a crown of greenery above Lausanne. From the lake, the city looks as though it had its own reflections for foundations. Lausanne is not a town to be passed through in a hurry. It must be visited leisurely, in all directions. And with all your senses on alert.

In Lausanne you'll find a city filled with green trees and flowers, the focus of commerce and culture in French-speaking Switzerland. The school is located in the heart of the city, with most students accommodated within a 15-minute ride of the centre. Lausanne has many museums, art galleries, a chocolate factory, the United Nations and ski slopes nearby. There are numerous summer festivals and concerts as well as opportunities for summer sports. All of this located on the beautiful shores of Lake Geneva.

By offering a variety of courses for different levels, selecting well-qualified teachers, setting clear and realistic learning objectives, and providing students with opportunities for self assessment, the school has designed classes to meet your needs.

The average temperature in Lausanne during the daytime is about 2°C/35°F in January and about 25°C/77°F in July.