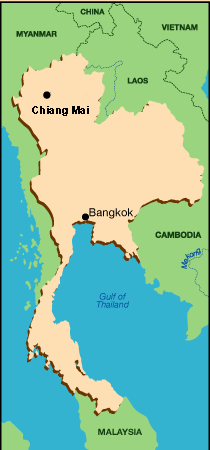 The kingdom of Thailand has been continuously independence since it was established in the 14th century. As a result, there is a strong sense of national identity, respect for traditions, and a unique combination of resiliancy and flexibility.

In recent history, Thailand has attracted more international visitors annually than any other southeast Asean neighbor. It is renown for the hospitality of its people, spectacular natural beauty, outstanding food, and wealth of things to see and do.

Chiang Mai, in the Northern mountains, is the longest continuously lived in settlement from the ancient days of Siam. It combines temples dating from the 1200's with the latest in spas and world class medicine.

Enjoy the many holidays, each known for their unique festivities. Stroll through eight hundred years of history. Relish the food. Explore the myriad of shops. Take in the many sports venues ranging from international racing or cricket to soccer or golf. There is something for everyone in Thailand.