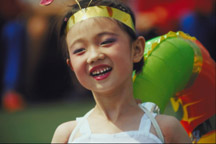 Homestudy Program

Study 15 hours per week. ICCI offers a unique language learning opportunity with their Homestudy Program. Private or semi - private tutor foreign language classes studies with a qualified teacher and his/her family for full immersion in Mandarin Chinese language and culture. The program caters to individual needs, offering personalized courses from beginner to advanced levels.

Homestudy Programs focus much more on the communicative skills than on the Chinese Writing System. After only 4 weeks even beginners will be able to communicate with Chinese people.

Mornings are devoted to language instruction from textbooks in the three subjects of study: writing (grammar), speaking, and listening.

In the afternoons, at least two hours are devoted to practicing the language skills learned through numerous discussions, on-site visits, interpretation, local fieldtrips, and cultural activities. From beginning level to the advanced level, teaching techniques and special emphasis are differently applied, with some afternoon activities varying by level as well.

The school utilizes a large body of teaching materials and textbooks drawn from China, Taiwan, and the United States. Experienced and dedicated Chinese language instructors provide lessons. All are college graduates, some with masters degrees, and native speakers of Chinese. The school provides regular follow-up training in western second language teaching methods to their teachers.