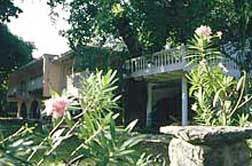 The beach town of Sosúa, located on the North coast just east of Puerto Plata, was originally settled by 600 Jewish refugees in the early 1940's. Although many of them left after World War II ended, some stayed and raised families in Sosúa. Their presence is noticeable in street names such as Calle David Stern and in the synagogue they built located on Calle Alejo Martínez. Sosúa is an easygoing town with open air bars, restaurants, discotheques, and a white sand beach.

Sosua consists of two major districts: El Batey, the business and tourist area where most hotels, stores, international restaurants and business are located, and Los Charamicos, just located across from El Batey
on the other side of the bay, a typical Dominican fisher village with all ingredients of the local flavor (small streets, shops in every house of the village center, music & people always around, chatting, running errands, sometimes playing dominos on the street, small food markets and Dominican restaurants.

The institute is located 5 minutes from the public beach in a beautifully remodeled building which contains both apartments and classrooms.