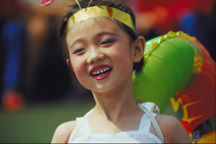 STANDARD CHINESE COURSE
This is a general Chinese group course designed for all levels. You can start any Monday (except for beginners: see dates). 20 lessons per week, i.e. 4 lessons in the morning from Monday to Friday that leave you free in the afternoon to discover the Chinese culture and the city.


COMBINED GROUP + PRIVATE CHINESE LESSONS
This is a 20 morning-lesson standard course combined with 10 private afternoon lessons per week. The private lessons allow you to go thoroughly into grammar or any of your weak points. You can also choose to study different topics according to your level and in agreement with your teacher.


COMBINED GROUP + PRIVATE CHINESE BUSINESS LESSONS
As you know, one doesn't negotiate in English with Chinese partners. This course is ideally designed for you if your company is doing business with China or if you need to live or travel in China for your job. In addition to the 20 weekly morning standard lessons, you will attend 10 additional afternoon lessons that will meet your specific business language needs. These lessons are very practical, realistic and flexible to adjust to your line of business. Your teacher, very experienced, will use case studies, role-plays, formal presentations and simulations to help you acquire the vocabulary and the ease to negotiate in Chinese in your specific field.


PRIVATE ONE TO ONE
This is a private course designed for those who wish to make the most of their Chinese course and learn at their own pace. Depending on your expectations, you can either apply for a 20, 25 or 30 private lesson course.

HSK 6 WEEK PREPARATION COURSE
China's Hanyu Shuiping Kaoshi , also known as HSK is a Chinese Proficiency Test, designed and developed by the HSK Centre of Beijing Language and Culture University to assess the Chinese language proficiency of non-native speakers. If you wish to take the HSK test , this course is especially designed for you! 8 HSK preparation lessons per week (i.e. 2 afternoon lessons 4 days a week) during which you will be trained to the exam tests. This course must be coupled to morning classes such as the standard course.


STUDY & INTERNSHIP
This Study & Internship program combines a minimum 4 week Standard Group Chinese Study program followed up with a minimum 8 week Internship Work Experience placement in the community.

All internship opportunities will work in partnership with local people in a variety of community-based projects.

This unique program offers exciting hands-on work opportunities, meaningful cultural immersion, and an enriching language program.

After the minimum 4 week study program, there is an 8 week minimum internship placement in a business or organization in one of the following fields:

• Marketing
• Tourism & Hotel Management
• Economy
• International Business & Banking
• Language Teacher (English)
• Other fields on request

For more information about this program, contact us!