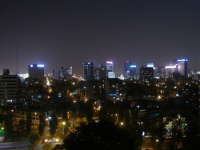 Lima, a city of history and culture, endless beaches, hills and mountains, nightlife, the possibility to see Cuzco, Machu Pichu and much more!

Although four hundred years have passed since its foundation, Lima, known as the "City of the Kings", has managed to hold onto its traditions, fashion and religious celebrations from Pre-Inca and Inca times.

Walking through the streets and squares of the historic centre of Lima is like traveling to the past. Discover Lima's Colonial Architecture, for which it was declared World Cultural Heritage by UNESCO.

In almost all of Lima's neighborhoods, you can enjoy an exiting nightlife with many possibilities to go out: casinos, discos, bars, pubs, folkloric parties and restaurants where you can enjoy and dance to the local music.

Lima is located in the central coast of the country, bordering the Pacific Ocean, with 7 million inhabitants you can enjoy beautiful beaches, landscapes, parks, the central market, and the Chinese neighborhood, which are all places you must visit. You can also contemplate the architecture, enjoy the Pacific waves while surfing, savor the world famous Peruvian cooking and the warm people, so… ˇVen a Lima!