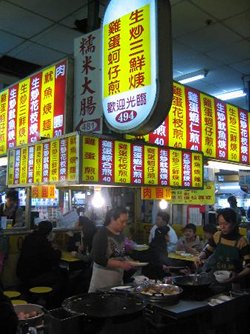 in 1949, 2 million Nationalists fled to Taiwan and established a government using the 1946 constitution drawn up for all of China. Over the next five decades, the ruling authorities gradually democratized and incorporated the local population within the governing structure. In 2000, Taiwan underwent its first peaceful transfer of power from the Nationalist to the Democratic Progressive Party. Throughout this period, the island prospered and became one of East Asia's economic "Tigers." The dominant political issues continue to be the relationship between Taiwan and China - specifically the question of Taiwan's eventual status - as well as domestic political and economic reform.

Taipei is located close to the island's north coast, with two rivers running through it and surrounded by mountains. Its nearly 3 million inhabitants are squeezed into what is essentially a basin, and the city has had to contend with traffic issues, air pollution, and other ramifications of a congested urban setting.

Taipei may be the country's 21st-century business heart, but it's also a place where traditional outdoor markets thrive, particularly the popular night markets -- street festivals with food stands, flea-market finds, and carnival-like attractions -- and colorful weekend markets selling goods like jade and flowers. Just outside Taipei is the National Palace Museum, the world's premier collection of Asian antiquities and once the private imperial collection, housed in Beijing's Forbidden City for 500 years.