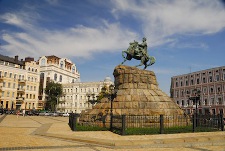 Kiev is the capital and the largest city of Ukraine, located in the north central part of the country on the Dnieper River. Kiev offers endless opportunities for tourism. Traveling to this city may be one of the most pleasurable experiences in your life. Ukrainians' very lifestyle will be as interesting to foreign visitors as the capital's major attractions and museums.

Kiev is the largest cultural, scientific and industrial center of Ukraine, the place of religious pilgrimage and a very attractive tourist destination. Its beautiful landscapes, parks and gardens charm and captivate. Hospitable Ukrainians will be delighted to introduce Slavic culture to their foreign guests.

Kiev has much to offer to its visitors. It ranges among the largest European cities, but it is not as familiar to the foreign guests as London, Paris, Moscow and other world tourist centers. It has interesting history, developed industry, high-level education and advanced science. Those who visit Kiev once, fall in love with this charming city and return over and over again to discover its attractions. Start your acquaintance with Kiev right now.