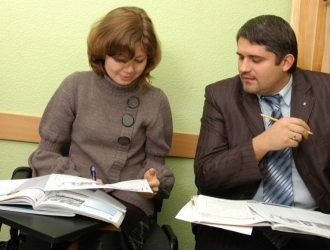 We use the modern communicative approach, which is used at all International House schools worldwide. The emphasis is mostly on training and development of the your communicative skills. In this way you can use your knowledge outside the classroom in real life situations.

Communicative methodology means that teaching is conducted only in the language that you are studying. This approach helps you to start thinking in the language which is the fastest way to learn. Our teachers can present even the most difficult material in an interesting and comprehensive form.

A placement test is required before the course start. It may be in the form of a test or an interview. At the end of the course our students receive also take a test to see the final level that was achieved.

The lessons of Ukrainian or Russian are offered to students of any levels, starting with "survival language" through the highest, professionally oriented levels.
individual (one-to-one) teaching
intensive courses and programs with flexible schedule, Survival Ukrainian/ Russian, 10-hour Immersion Course
professional highly qualified teaching staff
unique method of the Ukrainian and Russian languages study unassisted with any intermediary language
modern class rooms equipped with audio and video
resource center with Internet access
numerous professional library and film collection for training, reading and speech development
friendly and always ready to help stuff
experience of international cultural communication: parties, excursions, picnics, birthday celebrations, meetings, communication and correspondence with other students