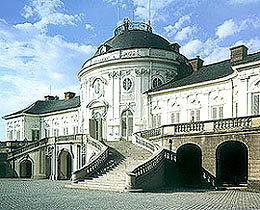 The cultural diversity in the city of Stuttgart is impressive: there is a wide variety of theaters, a symphony orchestra, and the Stuttgart Ballet is internationally renowned. The famous University towns of Heidelberg and Tubingen are just 112 km and 40 km away respectively; the Black Forest is not far away from the city. Commerce and industry have made Stuttgart famous. Mercedes-Benz, Porsche and Bosch all have their head offices here. With the 4th IAAF Athletics World Championships in 1993 Stuttgart also made a name for itself as an international sport center. Stuttgart football club is in the first league and top class international tennis tournaments are played in Stuttgart.

Transport facilities are excellent. Stuttgart can be reached either by rail or air from all over Europe, and there are air links with all parts of the world. The airport is about 20 km from the center of Stuttgart. The journey to the school takes about 20 minutes, using the fast underground link S-Bahn. A taxi costs about takes about 30 minutes. Local public transport facilities are also extremely good. The main railway station, Hauptbahnhof, is situated in the city center, about 20 minutes walking distance from the school, or 5 - 10 minutes by underground, bus or tram.

Students coming to sudy in Stuttgart for the first time are strongly encouraged to get an arrival transfer, and have a member of the local staff meet the student on arrival at Stuttgart station or airport. The student will then be driven to their accommodations, and can leave exploring the city till later.