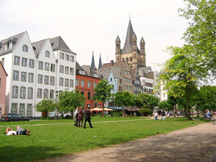 Currently the fourth largest city in Germany, with a population of one million, Cologne (Köln) is the colossus of the Rhine–Ruhr sprawl. The huge Gothic Dom is the country's most visited monument, its medieval buildings are unsurpassed, and its museums bettered only by Berlin, Munich and Dresden. The annual Carnival in the early spring is one of Europe's major popular celebrations. The city also ranks high as a beer centre, with 24 breweries all producing the distinctive Kölsch.

The climate of Cologne consists of very moderate, mild winters with very little snow, and sometimes humid summers with temperatures up to 26°C/79°F.

Founded in 33 BC, Cologne owed much of its development to ecclesiastical affairs. A bishopric was established in the fourth century, and saints Severin, Gereon and Ursula were all martyred here. In the twelfth century Cologne acquired the relics of the Three Magi from Milan, thus increasing its standing as one of the greatest centres of pilgrimage in northern Europe. Situated on the intersection of the Rhine and several major trade routes, medieval Cologne became immensely rich – and the largest city in Germany. Later decline was partially reversed in the eighteenth century with the exploitation of an Italian recipe for distilling flower blossoms into almost pure alcohol. Originally created as an aphrodisiac, it was marketed here as a toilet water, achieving worldwide fame under its new name – eau de Cologne.