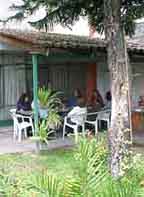 The school provides a well-organized and sequential program in concentrated Spanish, and has received high marks and excellent evaluations from students on their programs.

Both group and tutor classes are consistent and uninterrupted, including grammar, vocabulary, phonetics, reading, oral and written exercises, conversation and lab practice. All classes are in Spanish and are held Monday- Friday for 4-5 hours daily. Sessions are 50 minute in length, mixing grammar, writing, reading, and conversation. Teachers work closely with each other to provide continuity between each class. Instruction is paced to student needs. Beginners focus on vocabulary, sentence structure, and phonetics. As students advance, sessions on Mexican history and literature, or other topics of interest to students, are offered.

All programs start every Monday, except for Mexican National holidays and vacation times. Beginners start every first and third Monday of each month. Each student is given an assessment the first day of class to determine the best class placement.