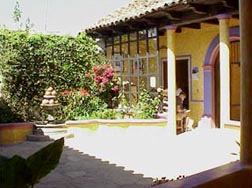 The school specializes in Tutor one-on-one Spanish instruction. As a result, their Spanish classes are set up to accommodate individual learning styles, personal interests and preferences.

The students who attend the school have varying goals for their Spanish study. Some of students would like to learn "survival Spanish" for their travels, other would like to study the language in all its complexities, others need their Spanish to aid them in their profession, such as bilingual teachers, physicians or other professionals. In order to accommodate this variety, the school doesn't use one particular textbook for all students. A variety of textbooks, exercises, books and other learning materials are used. All these materials are available for students to study outside of their class time and to make copies to study at home.

The school does not have a set policy for homework, students do as much as they wish, in agreement with their teachers.