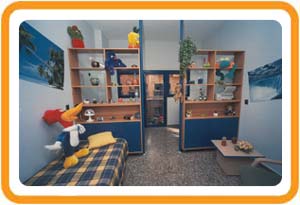 Student Residence The student residence on the Polytechnical University of Valencia campus. A modern and superbly designed building with an optimum layout, it is quipped with the latest in security and fire prevention technology. The building is divided into two subterranean parking levels, a ground floor shopping mall, the language school which is situated on the first floor and the remaining five floors are occupied by the student's rooms and facilities.

Decorated in the latest in comfort and quality, the residence has capacity for more than 600 students and teachers, in 408 single and double rooms. All rooms are outward facing, have wide windows and are divided into 2 well defined separated study and rest areas. Separated study and rest areas allow concentration without interruptions and guarantee rest. The measurements of the rooms are a minimum of 23 square metres. Each room has a complete bathroom. The measurements comply with regulations for disabled people. Each room has a study space (tables and chairs), a closet, window shades and an air conditioning system control (hot and cold). Private telephones in each room operate with prepaid phone cards that can be purchased at the reception desk. Weekly cleaning of rooms and linen service (towels and sheets) is provided.

On site amenities also include dining room, social/common room, computer room, music classroom, projection room, conference and meeting rooms, library, audio-visual classroom, etc. In addition, parking space for 230 cars on both of the subterranean levels is provided, including handicapped places, and special areas for motorbikes and bicycles with railings to chain them to for optimum security.

The shopping mall on the ground floor, for the use of residents and university population in general, meets all the possible needs that a student might have, reducing the amount of unnecessary displacements. Among the services you will find: an optician, drugstore, photoshop, photocopying service, travel agency, computer shop, restaurants, fast food restaurants, laundromat, driving school, etc.