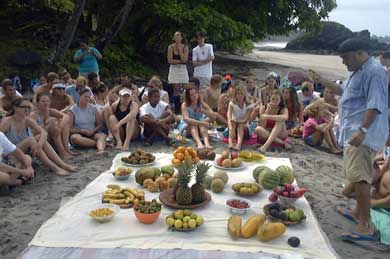 There is only so much studying one can do, before they must go and utilize their new found skills...

In that spirit we tell you of the activities that abound here in Costa Rica. Whether you are enjoying practicing your language skills with the local Ticos at the Lounge, or any number of establishments that abound in this region, you are sure to find enjoyment. You might even run into one of the many celebrities known to frequent Manuel Antonio. Social life of course is not restricted to refreshments and eating out.

There is an abundance adventure activities, done as a group, or solo.

There is plenty of time on the weekends, and of course after school hours to participate in multiple activities such as sight seeing, surfing, horse back riding, river water rafting, hiking, fishing, casinos, scuba diving and snorkeling. and of course learning to tango, salsa, or learning yoga.

The Staff at the school will assist you in arranging for a fun filled rewarding, learning experience. From sun up to sun down, and probably well beyond, your time will be filled with life changing experiences.