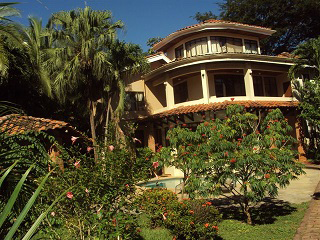 The Spanish Institute is the oldest and most experienced Spanish language school in the province of Guanacaste and Tamarindo, teaching Spanish since 1996. It is accredited, since 2008, by Instituto Cervantes, which means it meets the conditions set by the Instituto Cervantes Accreditation System for Centers, the only international accreditation exclusively focused on the teaching of Spanish as a foreign language.

The school is centrally located in Playa Tamarindo, just 150 meters from the beach and is situated in a beautiful tropical garden. On the premises, the students can find three buildings and two open air dry palm huts.

All 12 classrooms are distributed among the buildings. The classrooms are spacious and comfortable, with large open windows to create a comfortable and appropriate atmosphere to study. The main building hosts the reception of the school, 3 offices, bathrooms, and 2 classrooms. The rancho has 5 classrooms and a little convention center on the second floor and the cafeteria with a snack bar on the ground floor. In the cafeteria, students relax and enjoy conversations with other students while having some snacks and refreshments. It is also a good place to do homework during school hours or to take part in one of the dance lessons that are practiced from time to time after school on the main floor.

Students can enjoy the local wildlife. Iguanas, birds, and many other small animals can be observed while listening to the braking waves of the ocean. Often, the tranquility is only interrupted by the howling of monkeys that takes away the breath of students each time they stop for a visit.