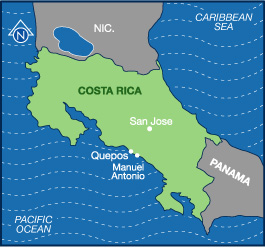 Manuel Antonio is part of the town of Quepos on the central Pacific coast of Costa Rica, and are less than 100 miles from San José. Quepos, is a former banana shipping port and the current sports fishing mecca of Costa Rica. Manuel Antonio, on the other hand, is famous for its national park, beautiful beaches, scenic drive and luxurious accommodations.

With the establishment of Manuel Antonio National Park in 1972, the people of Costa Rica decided to preserve for future generations one of the most beautiful and bio-diverse areas in the world. Although it is the country's smallest national park, the stunning beauty and diversity of wildlife in its 683 hectares is unequaled.

Manuel Antonio National Park contains numerous short trails, all of which are easily accessible and well maintained, and they tend to follow the coastline, supplying beautiful views and easy access to the picturesque white sand beaches.