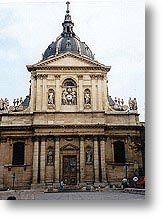 The Sorbonne University is located in the center of the famous Latin Quarter of Paris on the Left Bank. This is the students' and artists' quarter, but its also an area which still remains somewhat bohemian. There is the classical and aristocratic elegance of the Faubourg St. Germain. Founded in the 13th century, The Sorbonne University today houses the Arts and Human Sciences faculties of the University of Paris.

Language courses have been running for more than 60 years and are designed specifically for teaching French to foreign students. The courses are run like university courses with a high practical element which aims to teach the student how to express oneself as well as learn about French life.

What better place to experience and study the French language, than at its source - the University of Paris, Sorbonne. It was in the 13th century when Abelard rebelled against the teachings of the Ile de la Cite. His students followed him across the river to found a new university, the Sorbonne. The university has represented those who are dedicated to higher education and the pursuit of knowledge in France. Some of the more famous professors including Albert le Grand, St. Bonaventure and St. Thomas Aquinas have studied there. The Latin Quarter was named for the students who used to speak Latin in the cafes and bistros near the school as a symbol of their education. The students no longer speak Latin, but The Sorbonne University still stands, with its 19th century classrooms and the original 16th century chapel.