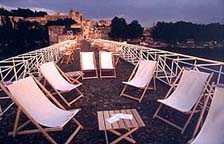 The city of Avignon, the province of the Vaucluse and the region of Provence provide rich history, art and landscape in an ideal climate. Avignon, a maze of ramparts, machicolated towers, belfries and palaces, is the sort of city seen in ancient woodcuts or medieval tapestries. The formidable palace-fortress was built for the Popes who, during a century of residence in Avignon (1309-1403) gave the town its monumental appearance. Avignon today is the setting for an international festival (taking place in July), which is an important annual event in European theatre. The magnificent courtyards and buildings serve as stages for the performances. Other festivals of note include dance (February) and jazz (November).

In the city center is place d'Horloge, lined with cafés and market stalls on summer evenings, just beyond which is the Palais des Papes. Also visit the Consistoire, where sovereigns and ambassadors were received. The adjacent Chapelle St Jean, and the Chapelle St-Martial upstairs, were decorated by the Sienese artist Matteo Giovannetti on the orders of Clement VI, whose concerns are evident in the wonderful food-oriented murals of his bedroom and study – part of Clement's New Palace, whose Grande Chapelle has the proportions of a cathedral.


The Rocher des Doms park gives great views over the river Rhone and along the river is the famous Pont d'Avignon of the song. The struggle to keep the bridge in good repair despite the ravages of the Rhône was finally abandoned in 1660, three and a half centuries after it was built, and today just four of the original 22 arches survive.