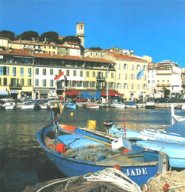 Cannes the "Star of the Riviera", sits on the Côte d'Azur in southeastern France, just southwest of Nice. The city's name became official in 1619 and was inspired by the rows of cane that once grew along its seashore. Cannes has been a resort spot since Roman times, and with summer temperature highs of 80F(27C) and winter temperatures no lower than 40F(4C), the city's popularity just keeps growing.

Cannes claims 69,000 permanent residents, but that number is surpassed dramatically during any one of their many festivals celebrated through out the year. Of course, the International Film Festival, first held in September 1946, draws the rich and famous, as well as the wannabe - close - to - someone - rich - and - famous crowds, but that's not the only happening in Cannes.

Festival choices are great and varied:
The Suquet Musical Nights, with concerts by famous musicians, conductors and soloists, is held in July.

The International Festival of Pyrotechnical Art is also in July

he Yachting International Festival sails in September

The International Dance Festival makes an appearance in December
In addition to festivals, there's always the casinos where one can venture a bet and the high intensity nightclub scene for the more adventurous.