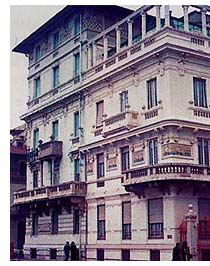 Apartment You can choose between 2, 3 or 4 bedroom apartments which you share with other international students. It is ideal for those who enjoy contact with other students from different parts of the world. We always do our best to accommodate you in a student flat with different nationalities. However, the common language typically becomes English. We suggest that you should reach an agreement with one another to speak as much Italian as possible.

The student flats are not very luxurious but they have all the basic facilities: a bed, table, chair and a wardrobe. Each student flat has a fully equipped kitchen. In student flats there are no telephones available. You can make your phone calls from one of the many phone boxes. You share the kitchen and the bathroom.

Please note: Tenants are responsible for the cleaning of their apartment. It is expected that the rental apartments be left clean and orderly.

Single or double rooms are available upon request. Sheets and blankets are included; bed linen is changed every 2 weeks. You only have to bring your own towels. All extra costs for electricity, water, gas, etc. are included in the fees for lodging.

All apartments are located a short distance from the school, shopping facilities and beaches.