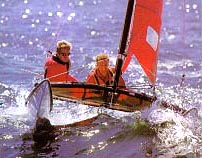 Cultural, Social & Activities Students are welcome to participate in all of that the local area has to offer, such as: surfing and sailing schools, beaches, discos, riding schools, etc. Students are eligible to receive special discounts to many of the local attractions.

The Center informs students continuously about cultural and sporting events and organizes a large variety of leisure activities:
Guided visits in History of Art (to Pisa, Pietrasanta, Lucca, Torre del Lago Puccini etc.

Dinners, which enable teachers and students to get know each other better

Every Thursday a "Spaghettata sul mare" (a spaghetti-party on the strand)

Every weekend students will be informed about a day excursion to Florence, Cinque Terre, or Elba Isle
The Sailing School Students have the option of joining sailing courses in the nearby `Centro Velico'. The sailing course is one week in duration. During that week students will receive 25 lessons (Monday to Friday in the afternoon). Information and enrollment is available locally.