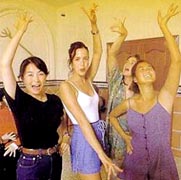 Social & Sporting Activities The center organizes parties, excursions, and a variety of after class activities and social events. These activities offer the student an excellent opportunity to practice Spanish, to get to know fellow students and members of the staff, to utterly enjoy a Spanish evening around a drink or a "paella" in an informal and friendly atmosphere.

Among the sports that you can easily practice while at the school include: Golf; Horseback riding; soccer; tennis and windsurfing.

The school facilities include 2 large sun terraces for relaxation and for doing homework in the open air. One of these is by the side of the swimming pool. For those who prefer to sun-bathe on the beach, this is only 15 minutes walk away.


At least once a week there is an evening reserved for the showing of a film or a filmed version of a theater piece. These showings are preceded by a short introduction and background information, and followed by discussion.