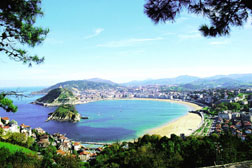 San Sebastian
A family resort town of long standing, San Sebastian rests on the bay of La Concha in northwestern Spain, is surrounded by rolling low hills and has three very nice beaches. The average temperature in summer is around 22Cº/72Fº, with winter coming in at 8Cº/47Fº. The town offers endless possibilities to enjoy your free time: lively nightlife, the Alde Zaharra or Parte Vieja (Old Part) , romantic walks along the beach, the Castle or the Wind Comb, excursions, museums, exhibitions, 40 cinema theatres, cultural centres, and the congress centre just to name a few.

A stop at the Brecha Market is a must, a traditional market which now a shopping and entertainment centre, but fresh local products are still available. The name "Brecha" refers to the market's location, the point in the old city wall where the Anglo-Portuguese artillery opened up a breach (brecha) during the 1813 siege. Constitución Square, or the "Consti" as the locals call it, is a great place to relax and people-watch.

San Sebastian is not short on festivals either, with something new happening all year round: a Jazz Festival, International Film Festival and Horror Film Festival, and of course Carnival.