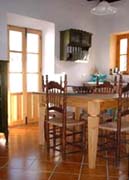 Shared Flat or House Students may choose between an individual room or a double room shared with another student from the school. From four to six people live in each house. The kitchen, the living room, and the bathroom are shared.

Each house or apartment has one or two bathrooms, a living room, a fully equipped kitchen, and a washing machine (or access to one). Every room has a wardrobe or set of shelves, bed linen, and towels. Heating is available from September through June, and some lodgings have a television.

The rooms are clean and in order at check-in, after which day-to-day cleaning is up to each individual. The students have to cooperate to keep the common areas such as the bathroom, living room, and kitchen in order, although these areas will be cleaned periodically.