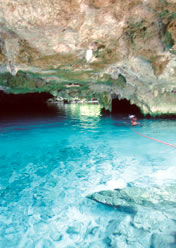 One-Day Excursions


* Tulum and Xel-ha: Students visit the only ancient Mayan center built beside the ocean, and have the opportunity to snorkel in a natural marine park.
* Sian-ka'an: Students tour through a huge and diverse natural biosphere where they can view many endangered species and wildlife.
* Cancun: A tour of the city, hotel, and shopping zones is provided. Students are also given the opportunity to visit local restaurants and enjoy the exciting nightlife.
* Xcaret: This visit takes students to a natural Mexican theme park where they can swim with dolphins, visit an aviary, enjoy a Mayan show and the Mexican Folkloric Ballet.
* Coba and Cenote: Students will visit an impressive Mayan center imbedded in the jungle and will go swimming and snorkeling in one of the most beautiful Cenotes in the region.
* Chichen-Itza and Cenote Ikkil: Students visit one of the most important Mayan archiological centers, swim in an amazing Cenote, and visit the colonial town of Valladolid.