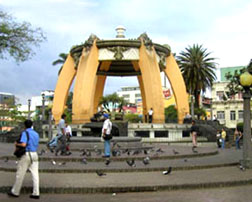 We specialize in offering immersion Spanish programs for people who desire to speak and read Spanish in a reasonably short period of time. With this objective in mind, our programs emphasize intensive conversation practice. We have found this to be one of the most effective and rapid ways of learning to converse and read in Spanish.

Students arrive in Alajuela with different language backgrounds. Consequently placement tests are given on the first day of classes to place students into small groups which match their conversational level. The groups range from complete beginner to advanced. Students will be moved to different groups as their Spanish improves to ensure they are always receiving the best instruction for their current language level. Under certain circumstances there may not be a group which matches the students current level. When this occurs the student will be given 3 hours of individual (one-on-one) lessons instead of 4 lessons in a group. This ensures that students should never feel like they are being over/under whelmed by the course content. Small groups classes (and individual lessons) ensure you will receive the attention and extensive oral practice so essential to developing your language ability.

Custom text materials have been developed and are given to each student attending classes. The customized material uses a well-established language acquisition program, providing live, meaningful situations in which students can acquire communicative competence in speaking and reading Spanish. Performance objectives for language structures, culture, and pronunciation are clearly delineated as well as functional conversational goals.

Students who start later than Monday will not be able to make up missed hours. Lessons are not held on national holidays.