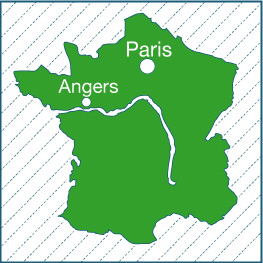 Angers in the heart of the Loire valley which has a reputation for the best spoken French (la belle langue francaise), is on the banks of the Maine River, about 300 kilometers from Paris. Thanks to the TGV train from Paris, one can arrive in one-and-a-half hours.

The city of Angers, previously the capital of Anjou, has a population of over 200,000 and is the newest prefecture of France. But its history started in the Middle Ages. You can visit the Chateau XIII with its XIV century tapestry of the Apocalypse. It is the oldest and the largest hanging tapestry in the world. In addition to the cathedrals and the museums, Angers offers many other attractions: Contemporary Dance, Textile Arts, Theater, Song of the World. Also available to enjoy are the city's public parks, gardens, and numerous flower gardens which have a renowned reputation.

The area offers numerous sport options. Angers is also in the heart of wine, liqueurs, and agricultural country.