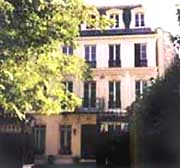 An island of calm in the heart of the city; a charming mansion-house situated within 10 minutes of the world-famous Opera de Paris and Boulevard Haussmann. It is the ideal place to learn the French language and to gain insight into the life, customs, institutions and the way of thinking of the French people.

The facilities include quiet, bright, attractive classrooms on three floors with an elevator, a common room opening onto a terrace, a room with television and video recorder, and a room where students can work between courses with books, cassettes, CD-ROM's.

The team of teachers have all received postgraduate qualifications in teaching French as a Foreign Language. Additionally, teachers are trained in various pedagogical theories, and have many years of experience teaching French. Teachers also specialize in particular subject areas, such as finance and insurance, law, business, tourism, and exam preparation for chambre de commerce, DELF and DALF.