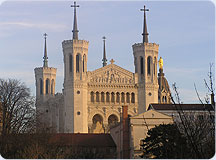 As the second largest city in France, Lyon has a very rich cultural heritage and is famous for its gastronomy and vineyards.

At the crossroads of the main European cities such as Paris, Milan, Barcelona, Frankfurt, Brussels, Geneva, London, etc., close to the Mediterranean sea and Alpine ski resorts, Lyon is perfectly located for people wanting to visit France and Europe.

Lyon also offers a very dynamic cultural life and a variety of entertainment opportunities:
Arts - A wide selection of modern theaters, a national Opera house, museums, expositions international, concerts, etc.
Sports - Sports facilities, swimming pools, ice-skating rink, bike lanes, etc.
Leisure- Cinemas, clubs, restaurants, pubs, etc.
Many parks and monuments to visit throughout the city
Useful links:

Every one of our course programs offers activities relating to French culture and living in France. All aspects of everyday French life are dealt with in vocabulary classes and practical activities.

Lyon is, culturally, a very active city throughout the entire year. Up to date information (leaflets, brochures, posters, etc.) about shows, concerts, exhibitions, theater, cinema etc. can be found throughout the school with staff on hand to provide further information.

In the afternoons and evenings we offer a variety of regular activities including, but not limited to the following:
Guided tours of Lyon
Museums
Food tasting
Cooking workshop
Picnics
Concerts
We also propose diverse and stimulating travel ideas for the weekends.

Our cultural and free time program is developed and updated by Janine, in order to meet any needs and expectations.